UNDER $22  An excellent choice and price for a red wine that is fruit forward but not at all sweet.
Where to buy:
Wine.com $22! Check your shipping state for availability & price changes. Shipping costs is about $15.95 for one bottle.
CWSpirits.com unfortunately doesn't have this gem. But they do have a great selection of other Sangiovese! I would give Bartenura Rosso Toscano a try it's $15 and they usually do have this one in stock. Use code SipEatRepeat for a 5% discount off any order! CWS.com is a great option if you are looking to ship to a state like MI. Or any other hard to ship to State, their shipping cost is about $16.10 for one bottle.
What I love about the wine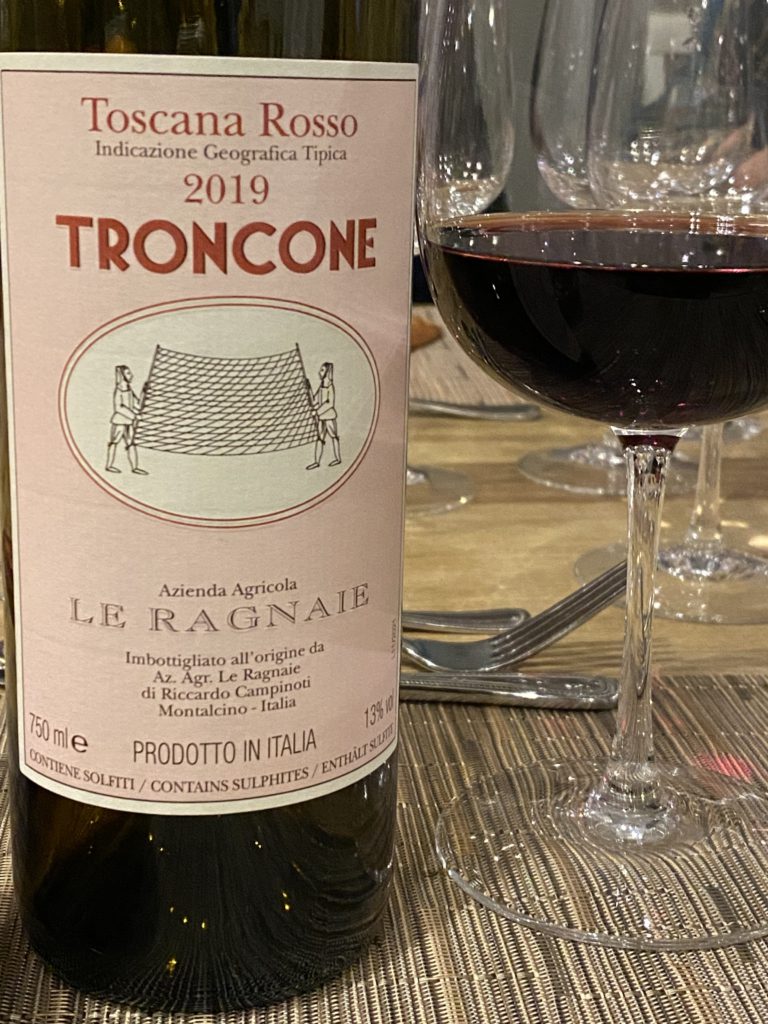 I love the price point of this bottle of wine. A true gem. A high quality bottle of sangiovese for $22! Le Ragnaie has an amazing bottle of Brunello de Montalcino that is about $80, and different bottles, which I sadly have not tried, that run upwards of $100. So to find out Le Ragnaie made anything in a $25 price point was an instant seller for me!
I first tried Le Ragnaie Troncone at a dinner and wine pairing party. We had one request for our chef, please do not serve us anything we've had to eat or drink before.
When I saw Le Ragnaie on the menu, I didn't want to sound cheep, but I asked how far over budget was he taking our experience? His reply was simple. "Trust me." and that was it. Not a price point or anything just, Trust me. So I didn't, I googled it, and couldn't believe he had found a bottle of Le Ragnaie for $22. I called him back and said, "Ok I trust you." I did see another bottle of savgiovese from Le Ragnaie, Rosso di Montalcino for $38. I haven't tried that one. I'm tempted to, just so I can compare the two. But honestly, this bottle is so good and such a great price I am happy buying the bargain. Maybe thru the wine club the Rosso di Montalcino will eventually make its way to me.
But how does it taste?
Le Ragnaie Troncone is a wonderful dry sangiovese, that is very red fruit forward but not in the slightest bit sweet. It is light to medium bodied and gives you a hint of earthiness. This bottle is the perfect starter wine. Give it a try with any kind of cheese or any appetizers to start your dinner party.