UNDER $35 A baby Barolo. The older the age of the bottle the smoother the experience.
Where to buy:
Wine.com $35! Check your shipping state for availability & price changes. Shipping costs is about $15.95 for one bottle.
CWSpirits.com unfortunately doesn't have this gem. But they do have a great Nebbiolo for about $60. Michele Chiarlo Barolo Tortoniano is a great choice if you are looking for another recommendation and wanting to stay in the Nebbiolo family. Use code SipEatRepeat for a 5% discount off any order! CWS.com is a great option if you are looking to ship to a state like MI. Or any other hard to ship to State, their shipping cost is about $16.10 for one bottle.
What I love about the wine
Vietti has quickly become a brand favorite in my household. Their Perbacco Nebbiolo is another great wine in their line up. However what I really love about this bottle of wine is the price for it's value. It is seriously baby Barolo for a lighter price tag.
This bottle came into my life through the Sip Eat repeat wine club. So I am assuming someone read my previous post on Vietti and decided to send me a bottle of something within the Vietti family, but allowed me to try a different grape. I really enjoyed the bottle and ended up purchasing another bottle. Without paying much attention to the year I bought a younger bottle, a 2020 to be exact. I noticed a difference and at first thought maybe the bottle was exposed to too much sunlight or heat, but then I checked the original photo I had taken just a week prior and noticed there was an age difference. I learned something new, Nebbiolo's can be a little strong and intense when they are still young and really become a different wine all together when they age in the bottle a little. The bottle that was sent to me was a 2018 and drank in 2023. The bottle I purchased was a 2020 and drank in 2023. I felt like for 35 bucks I got a great lesson in Nebbiolo's. This very reason is why I love the Sip Eat Repeat wine club, and blogs, and it is every reason why I started this wine club. To learn and explore new wines I would have never tried before. So to the stranger who sent me this bottle of wine, "Thank you!"
But how does it taste?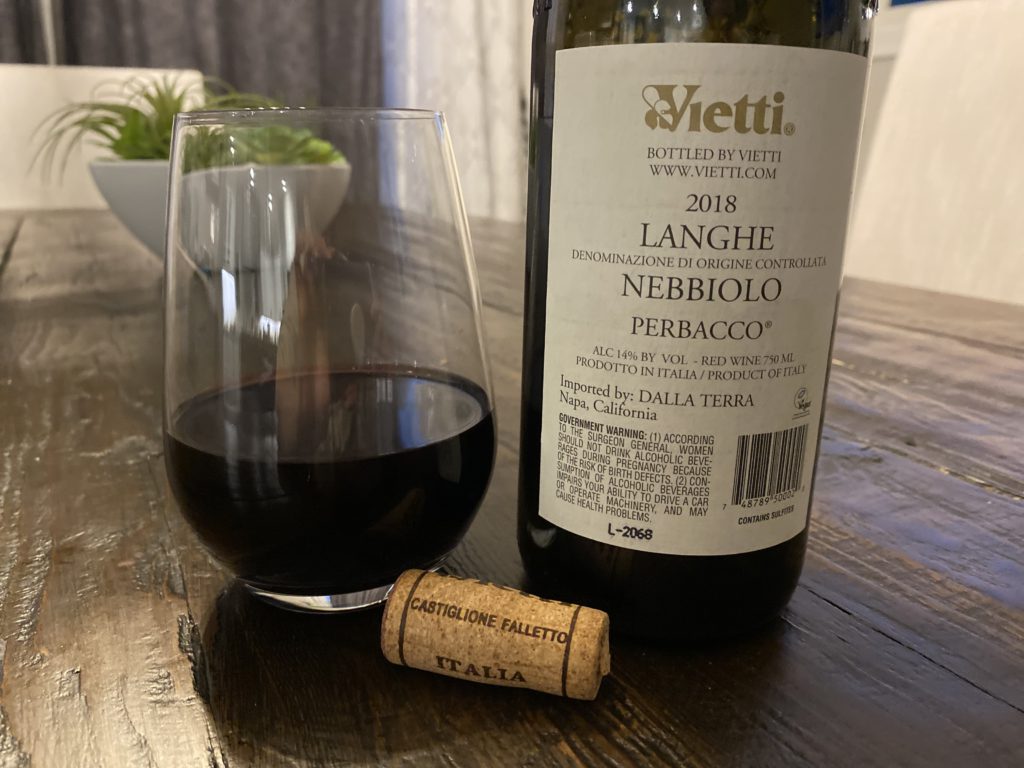 Vietti Perbacco Nebbiolo gave me two different impressions, because I had the 2018 first and then the 2020 slightly their after. The 2018 is a little harder to come by and the links I am posting here are to the 2020. the 2018 was freaking fabulous, full of dark berry flavors and easy to drink.
Now, the 2020, drank in 2023 gave me light to medium bodied, dry, and acidic thoughts at first sip. It became a smoother wine when it had a little time to open up.