UNDER $20 A fun, bright choice for any day drinking celebration, or casual gathering.
Where to buy:
Wine.com $20! Check your shipping state for availability & price changes. Shipping costs is about $16.00 for one bottle.
CWSpirits.com $20 Unfortunately is frequently out of stock but they do carry it. Use code SipEatRepeat for a 5% discount off any order! CWS.com is a great option if you are looking to ship to a state like MI. Or any other hard to ship to State, their shipping cost is $17.00 for one bottle.
What I love about the wine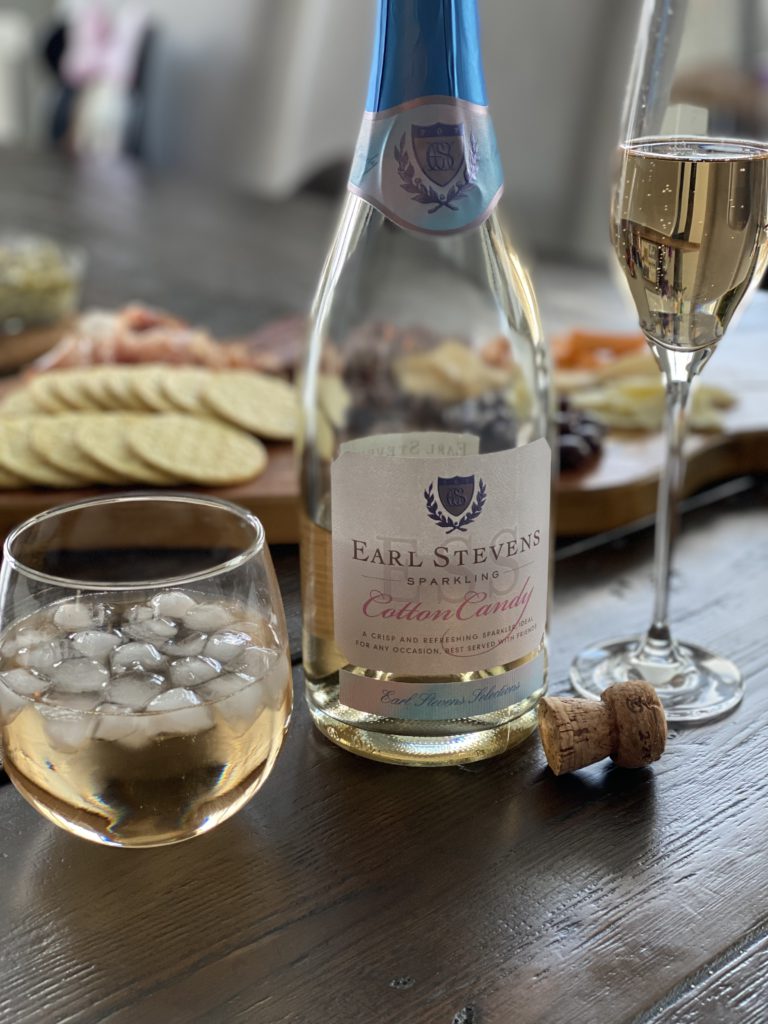 Earl Stevens Sparkling Cotton Candy is basically cotton candy in a wine bottle. It's a fun bottle of wine. This bottle of wine was the talk of the party at our day time celebration, but, I will be very candid with all of you. If you are a serious or boujee wine drinker, or somehow think cotton candy is not sweet, you will probably not like bottle of wine. This is the only bottle of wine that I have ever seen have the words "Sparkling grape wine with certified natural flavors and certified color FD&C Red No. 3" on the back label. So, again, if you are a real serious wine drinker, that will probably turn you off. I am not knocking the wine because people really enjoyed it and I buy it all the time when it's on sale for any Spring time functions.
Now let's move past the artificial coloring and talk about why I like Earl Stevens Sparkling Cotton Candy. First, I love the packaging! It is great for a baby shower, Easter, Mother's Day, or any bridal shower type of event or gift basket. I would make sure you do have more of a dry or less sweet option available as well. Earl Stevens Sparkling Cotton Candy was perfect for the opening drinks, but after one or two glasses eventually the girls did move on to Mimosa's.
Second, I love the conversation and laughs this bottle of wine started. I thought "Cotton Candy" on the bottle meant it came from the cotton candy grape. Well, after a few bets and apparently some really smart wine drinkers in my family, we learned it's actually from the Moscato grape. Doh, That was a fun but expensive fun fact to learn. But again let me remind you, I am not a professionally trained wine drinker, so I wouldn't know that you can't really make wine from the cotton candy grape.
Over all it was a really fun bottle of wine. Earl Stevens isn't a third generation winemaker, he is E-40, the rapper, and he did a really good job giving us a bottle of wine that would bring everyone together for a good time. Everything about this bottle of wine gave us something to talk about.
But how does it taste?
Earl Stevens Sparkling Cotton Candy is certainly sweet. It is a sparkling Moscato. It is not the sweetest Moscato I have tasted, but it did remind me of a Clearly Canadian Sparkling water, or a wine spritzer. It taste like bubbly cotton candy with a little alcohol.
I served it chilled but after my first sip my instinct was to pour it over a glass of ice. It changed the drinking experience of the wine, I felt it was a little less sweet. After trying it served both ways the majority of the girls liked it without ice.