UNDER $25 clean and simple Cabernet Sauvignon.
Where to buy:
Wine.com $27! Check your shipping state for availability & price changes. Shipping costs is $15.95 for one bottle.
CWSpirits.com $24! Use code SipEatRepeat for a 5% discount off any order! CWS.com is a great option if you are looking to ship to a state like MI. Or any other hard to ship to State, their shipping cost is $16.10 for one bottle.
What I love about the wine
GreenWing Cabernet Sauvignon is a great wine for the price. I have a love hate relationship with Greenwing. I love how much this wine goes on sale but I hate how fast it is always sold out! Wine.com is pretty much always sold and but occasionally you will get lucky and be able to snag a bottle for $27 bucks. CWSpirits.com tries to keep it in stock and is where I have found it on sale the most for $24 bucks!
If you are able to find it on the store and you are looking for something new I would say this is a pretty safe bet to pick up regardless of what you like to drink. Greenwing is a bold cab but it is still very much suited for someone who enjoys mostly Pinot Noirs.
I have started to venture out of the regions in which I try my wines from. Greenwing Cabernet Sauvignon comes from the Columbia Valley in Washington. I really love how the wine pays tribute to the Pacific Northwest by having a simple teal-green feather on the bottle paying tribute to the Green-Wing Teal duck, which are indigenous to the area.
But how does it taste?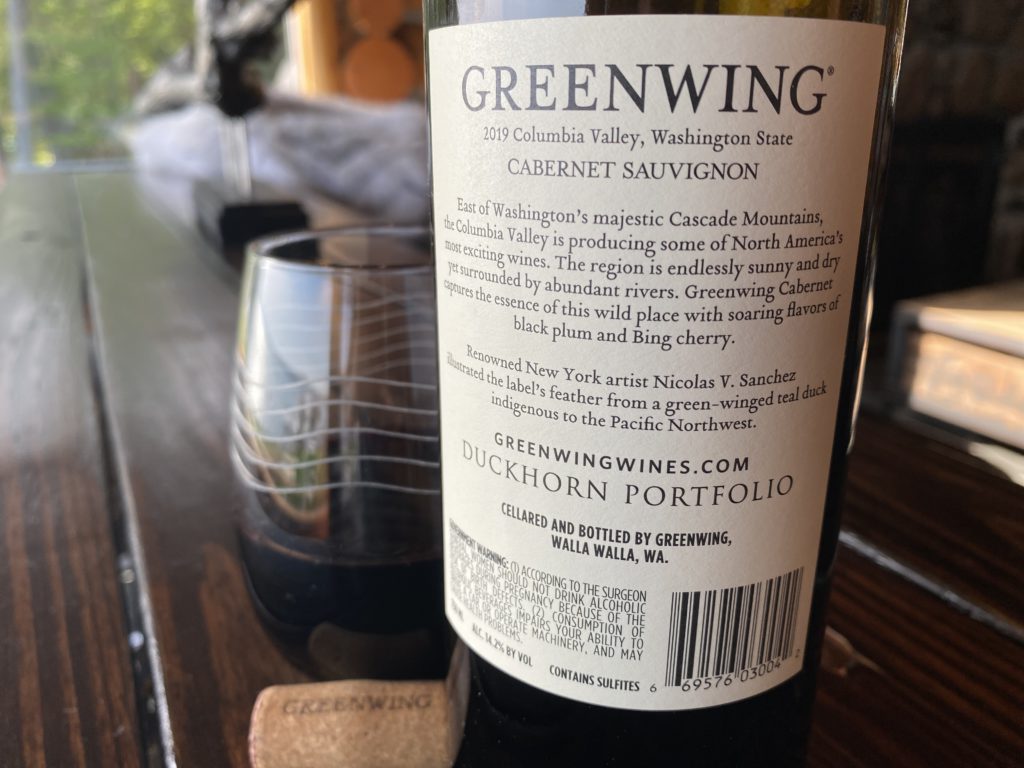 GreenWing Cabernet Sauvignon is dry and oaky. It was fairly acidic but still pretty darn likable to a house full of Pinot Noir drinkers. I will agree with the bottle's description of black plum but I would say there was a smoky pepper to this wine as well. While it was pretty bold, dry and acidic the black fruits still came through.