What I love about the wine
Mount Veeder Cabernet Sauvignon transported me to a warm cozy cabin in the mountains somewhere. It felt very lodge like to me. My husband become ten times more manly and Paul Bunyan like. And he is not, he is very much a city boy, but something about this bottle of wine just felt cozy. 
It's no question a Cabernet Sauvignon. If you tasted it blind folded you would instantly guess a cab. Mount Veeder is made up of 82% Cabernet Sauvignon, 8% Merlot, 6% Petit Verdot and 4% Malbec. There is nothing sweet about this bottle of wine. It is dry and powerful but very easy to drink.
I love how its color really compliments its taste. It has a deep rich garnet almost purple color to it. You can't help but notice the beautiful color to it. And that is how this $45 bottle of wine taste, rich, bold, and beautiful.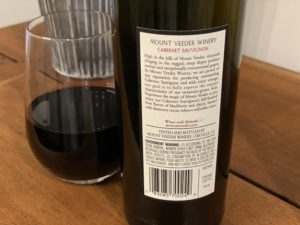 I have to hand it to Mount Veeder Winery, their marketing department did a great job describing to the consumer what they would experience with this bottle of wine. They use the term concentrated grape and that carries over to the flavor and texture of this Cabernet. It is full bodied and full of concentrated dark grapes and cedar.